Types of Orthodontic Treatments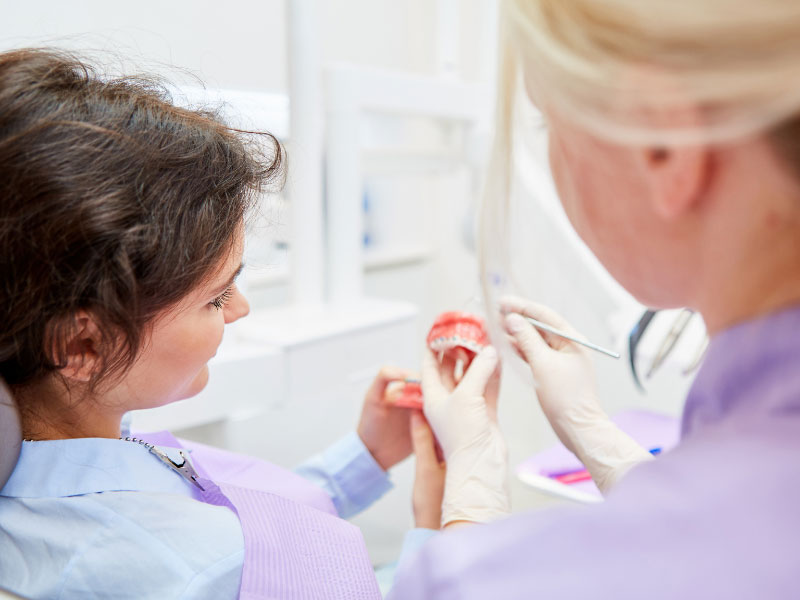 The specialty of dentistry, orthodontics, focuses on aligning teeth and improperly positioned jaws. Your smile's aesthetics can improve, your dental health can fare better, and your self-confidence can grow due to orthodontic treatment. However, problems with orthodontics may lead to several different complications, including difficulties eating and speaking, discomfort in the jaw, and an increased likelihood of cavities and gum disease.
With orthodontic procedures and dentists certified and members of the American Dental Association and American Academy of Cosmetic Dentistry, these difficulties and your general dental health can improve. This particular blog will discuss many kinds of orthodontic treatments that are now accessible, as well as the positive effects that they may have on your dental health.
Types of Orthodontic Treatment
More than one orthodontic therapy is available to realign teeth and incorrectly placed jaws. Below are the most widespread types:
Accelerated Orthodontics
Typical Mouth Micro-osteoperforations or dental vibrators are the two methods used in accelerated orthodontics, a relatively recent technology used to speed up receiving orthodontic treatment. It can cut treatment by many months when you need braces or aligners.
Guards and Braces
The most prevalent kind of orthodontic treatment is using more traditional braces. They consist of metal brackets cemented onto the teeth and linked to one another through wires and rubber bands. The wires will be progressively tightened throughout treatment to gradually shift the teeth into the correct position.
Ceramic Braces
Ceramic braces are identical to conventional braces, except the brackets are transparent or molar material, which blends in with the gums. This helps make them less visible than traditional braces.
Headgear
In orthodontic treatment, overbites and underbites may be corrected using headgear, which is worn in combination with braces. The headgear, worn outside of the mouth and attached to the braces, helps move the teeth and jaw into the appropriate position.
Lingual Braces
Lingual braces are similar to regular braces, with the primary difference being that the brackets with wires are put at the back of the teeth rather than the front. This makes them virtually invisible from the front.
Braces that Tighten Themselves
Self-ligating braces are similar to standard braces; however, self-ligating braces employ a specific clip rather than using elastic bands to keep the wire in place. This results in less friction, speeding up the treatment process and requiring fewer modifications.
Invisalign
Invisalign is a unique orthodontic treatment involving removable and transparent plastic aligners. Invisalign patients wear their aligners continuously for 20-22 hours each day and have their aligners custom-made for them. In addition, they are removable, so you may eat and clean your teeth without worrying about them. At Universal Smiles Dentistry, we are a Platinum+ Invisalign Provider.
Palatal Expanders
When the upper jaw is too limited to accommodate all of the teeth, palatal expanders come into play to widen the space available in that region. The expander is a piece of dental equipment worn over the palate and can be gradually adjusted to increase the width of the jaw.
Surgical Orthodontics
In rare instances, if the orthodontic problems are severe, the orthodontist may prescribe surgical orthodontics. In addition, to repair concerns about how the teeth and jaws are appropriately managed, it is necessary to undergo orthodontic therapy and jaw surgery.
Retainers
After undergoing orthodontic treatment, patients often wear retainers to keep their teeth in new positions. They specifically cater to the individual patient; depending on the situation, they may be detachable or permanently attached.
Orthodontic Retainers
In most cases, orthodontic retainers come into play after the end of orthodontic treatment to assist with maintaining the teeth in their new alignment. There are two distinct categories of retainers: detachable and fixed. Removing fixed retainers is impossible since they are attached to the rear of the teeth. Detachable retainers can be worn for a certain period throughout the day but require removal to clean the teeth or eat.
Which Orthodontic Treatment is Right for Me?
The dental procedure most appropriate for you will depend on several criteria, such as the extent of the orthodontic difficulties, the amount of money you have available, and your personal preferences. At Universal Smiles Dentistry, our dentists and staff are the right choice to consult with on the many orthodontic treatment options available to patients like you.
The Many Advantages of Receiving Orthodontic Treatment
Orthodontic therapy provides various advantages to patients, including:
More Aligned Teeth
The beauty of your smile gets better, as well as your self-confidence, with the use of orthodontic treatment, which can straighten teeth that are not aligned properly.
Better Oral Health
Your oral health may improve due to orthodontic treatment since cleaning and flossing your teeth will be more straightforward. This may help avoid tooth decay, periodontitis, and other oral health concerns.
Enhancement to the Bite
Orthodontic treatment may correct your bite, improving your chewing, speaking, and smiling abilities. A better bite may also lessen the likelihood of jaw discomfort and other disorders connected with misaligned teeth and jaws.
The Prevention of Potential Teeth Problems in the Future
Orthodontic therapy may avoid future dental difficulties by treating orthodontic abnormalities early on. This may help reduce the need for more extensive and expensive dental surgeries in the future.
Bottomline
The aesthetics, functionality, and overall health of a person's teeth and gums improve using orthodontic therapy. We can assist you in attaining the smile you've always dreamed of, regardless of whether you need conventional braces, Invisalign, or another orthodontic treatment. Contact us at one of our six locations for further information on how orthodontic treatment may improve your dental health and the appearance of your smile. We are conveniently located in the following Central Florida locations:
Edgewater
Orange City
DeLand
Titusville
South Daytona
The Villages – Lady Lake
Orthodontic treatment is considered an investment in one's dental health, self-confidence, and general well-being. Contact us to learn more about the orthodontic treatment options available.
Please login to publish a comment.
Comments (0)