S. Gopal Sirivolu, DDS, MS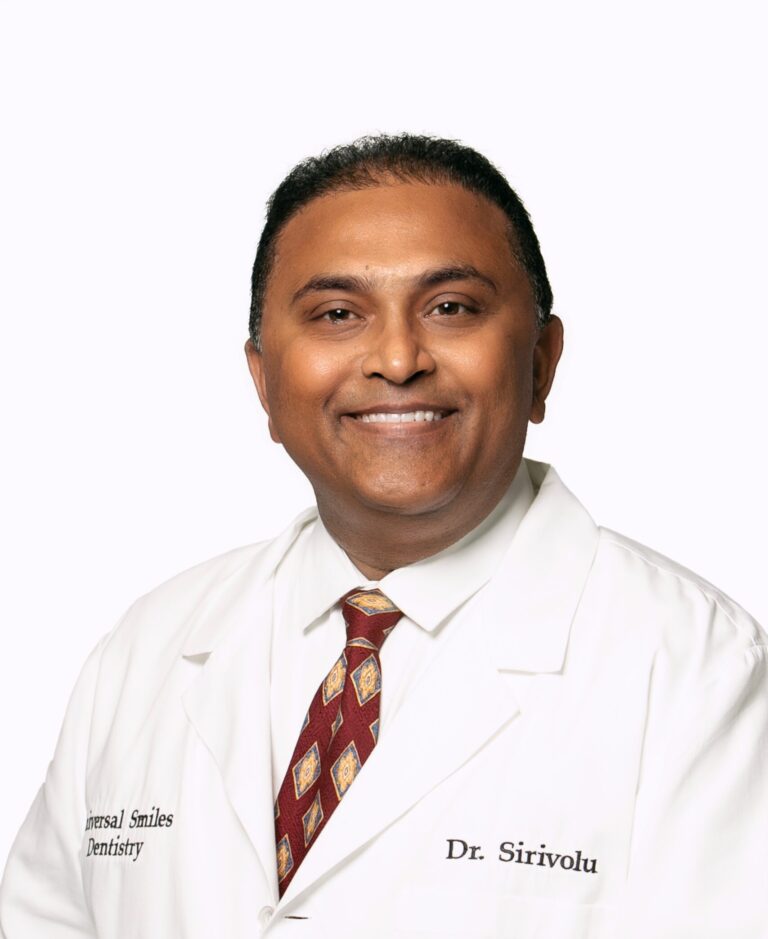 Dr. S Gopal Sirivolu is the founder and the Dental Director at Universal Smiles Dentistry PA. Dr. Sirivolu excels in all aspects of dentistry and has been a respected General and Implant Dentist at USD PA for over 16 years. His PURPOSE is to help his patients live longer with a higher QUALITY of LIFE by providing top QUALITY DENTAL WORK.
Dr. Sirivolu graduated with highest honors from the University of Health Sciences, India in 1993 and completed his Advanced Standing graduate program at the University of Southern California, Los Angeles in 2000. Dr. Sirivolu combined his advanced education and state-of-the-art technology at USD PA to offer the highest level of oral care. His goal is to eradicate dental disease from society by providing healthy teeth and gums for a lifetime. He continues to keep himself abreast of any advances in the field of dentistry and updates his skills in order to provide excellent care. Dr. Sirivolu and his team believes in adapting and implementing the modern technologies for better patient care such as Itero 5D plus for intraoral scanning for Invisalign, implants, crowns, bridges, removable dentures, etc.
His team firmly believes in the 4C's of Customer service:
COMMUNICATION
CARING
CLEANLINESS
CRAFTSMANSHIP
He believes that a one-on-one approach helps achieve wonderful esthetic results. He also compassionately assists those with varying concerns about matters of longevity, health, and fears about dentistry.
Dr. Sirivolu is a member of The Academy of General Dentistry, American Dental Association and Florida Dental Association. He is very actively affiliated with various organizations such as "Tooth Fairy" (supporting Children's Oral Hygiene, preventing cavities and gum disease), Autism Society of America, Volusia county schools, Seminole High School, and the Oviedo High School Soccer Team. Dr. Sirivolu serves on the board of directors and trustees of Chinmaya Education Foundation. In his free time he enjoys reading books, watching movies on Netflix, playing golf with his son and traveling with friends and family.
Sai Preeti Gudla, DDS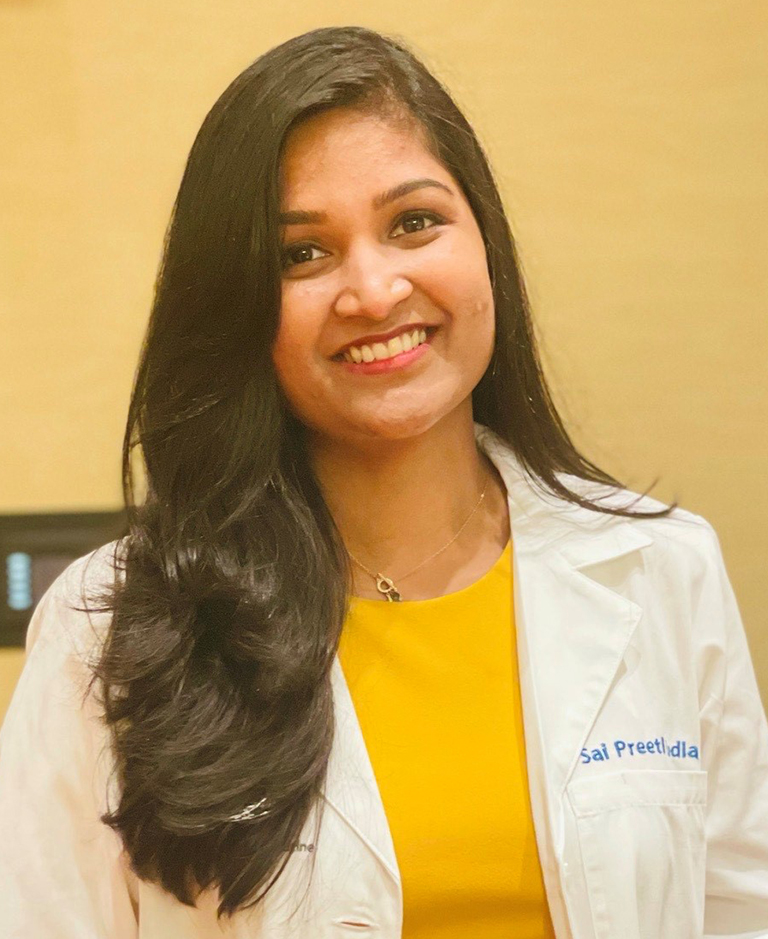 Dr. Sai Preeti Gudla recently joined the team in June 2022. Her vision is to help craft the smiles which will boost self-confidence in her patients. She is extremely excited to be a part of the universal smiles dentistry family.
Preeti is originally from India, graduated from Dr. NTR university of health sciences in 2012 and then moved to United States in 2014 with her husband. Here she was a certified Expanded functions dental assistant for 2 years. Later she shadowed various dentists , volunteered in few organizations such as Mission of Mercy and Dentistry from heart, to learn more about American standards of dental settings . These experiences have given her an opportunity to experience large dental settings for a group of 200-400 patients.
She got her DDS Degree from State Univeristy Of Buffalo. She enjoys delivering care to her patients of all ages and stages in life . She is so thankful of her grandfather, who encourages her to serve people and also her childhood dentist who chiseled not only her smile but have her strength and perseverance to carve out her life path.
Outside of Sai Preeti and her husband Kiran Korada love being parents and feel blessed to have their daughter Naisha. Both of them love cooking Indian Dishes and organize gatherings with family and friends regularly.
Yesell Candelario, DDS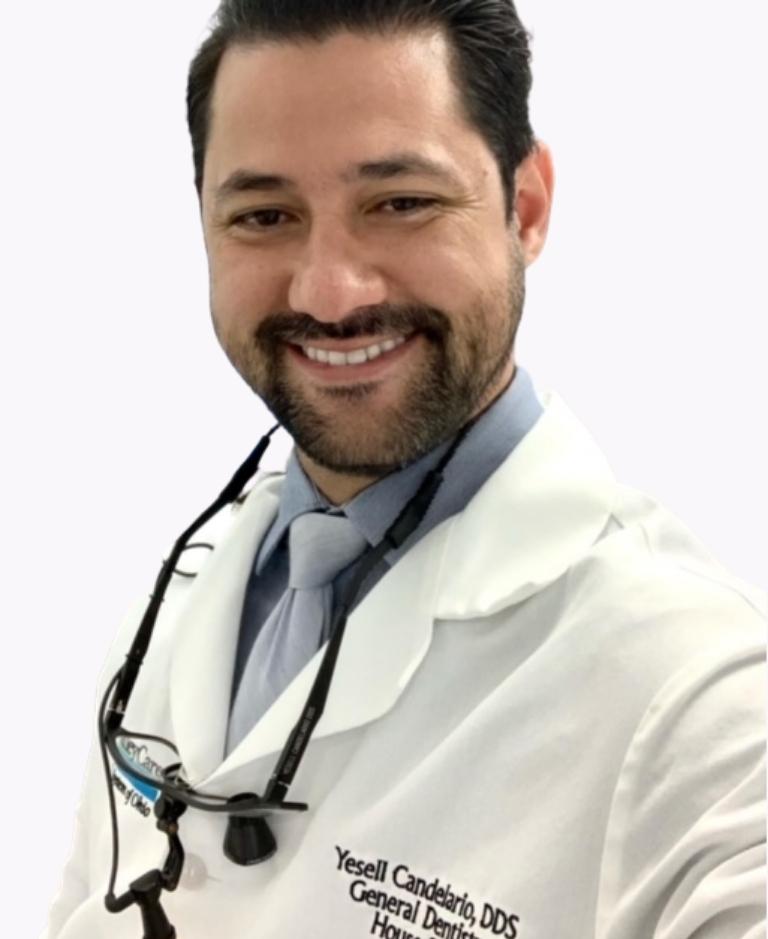 Dr. Candelario has a true passion for dentistry. He has practiced dentistry in 4 different countries, where he cooperated with several non-for-profit organizations. He brings the experience of 3 post doctoral programs to our team, and the years of managing complex prosthetic and implant patients. He also completed a program with focus in Hospital Dentistry, management of the medically compromised patients, and dental treatment under general anesthesia.
Dr. Candelario is bilingual, fun loving, compassionate with patient care, gentle in his treatment and very good in communicating with patients on their treatment options. In his free time he enjoys music and cooking for family and friends.